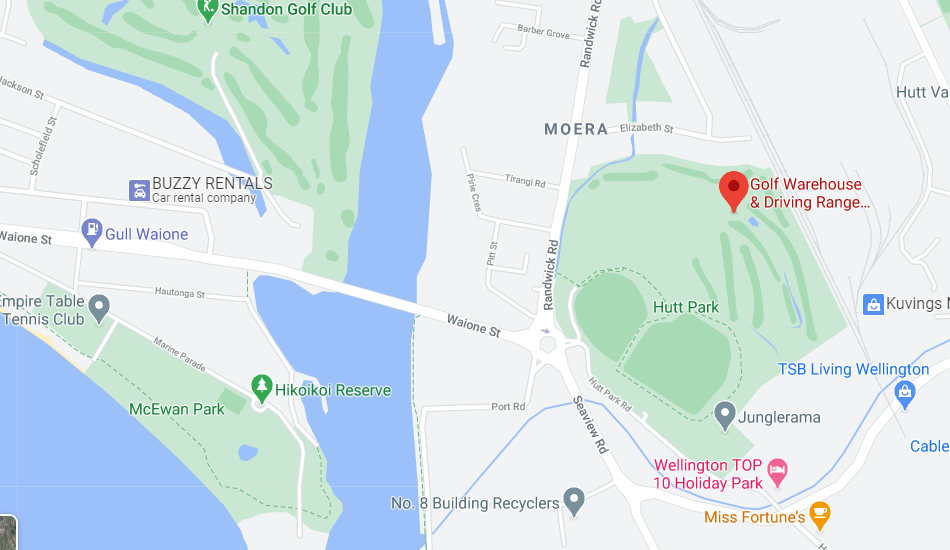 Golf Warehouse & Driving Range - Lower Hutt
82 Randwick Road
Moera 5010
Lower Hutt
New Zealand
GET DIRECTIONS
Golf warehouse Lower Hutt Driving Range
Golf Warehouse Lower Hutt is Wellington's premier golf practice and shopping destination featuring a fully stocked golf retail store with the latest clubfitting technology from both Foresight Sports and Toptracer powered by TopGolf. Combine this with one of the most experienced clubfitting teams in New Zealand you are guaranteed to have a personalised and exciting club fitting experience. The facility is home to an automated 22 bay golf driving range with world leading TopTracer ball tracking technology powered by TopGolf, a 9 hole NZ Golf rated golf course, 18 hole outdoor Mini Golf, onsite workshop for club repairs and multiple PGA professional coaches onsite there is something for everyone to enjoy golfers and non golfers alike of any ability.
04 589 GOLF (4653)

Monday - Friday 9:00am - 8:00pm Saturday - Sunday 8:00am - 6:00pm Public Holidays 9:00am - 6:00pm
Golf Warehouse & Driving Range - Lower Hutt
82 Randwick Road
Moera 5010
Lower Hutt
New Zealand
GET DIRECTIONS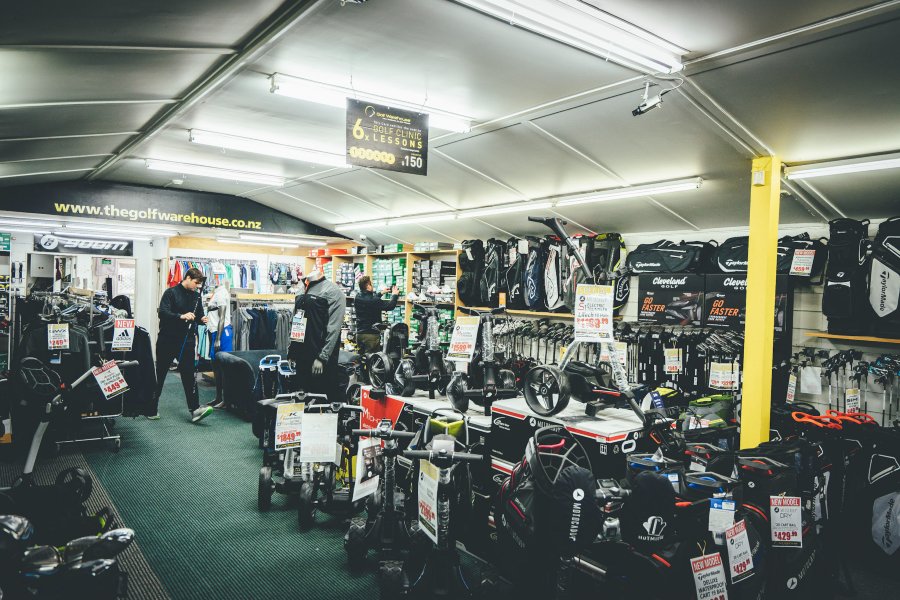 GOLF RETAIL THERAPY
As New Zealand's Number #1 golf retailer we take pride in bringing together a team of outstanding and dedicated people who live and love golf and want to provide the best products with unbeatable customer service. At one of our 10 retail stores, you'll find the widest selection of leading golf brands like TaylorMade, XXIO, Callaway, Srixon, Adidas, Under Armour, GWX, Motocaddy, PowaKaddy and more, as well as the best prices and regular deals.
Our sales philosophy is based on the simple premise of golfers helping golfers and we're proud to say that for more than 25 years, the Golf Warehouse has been the most trusted name in New Zealand golf.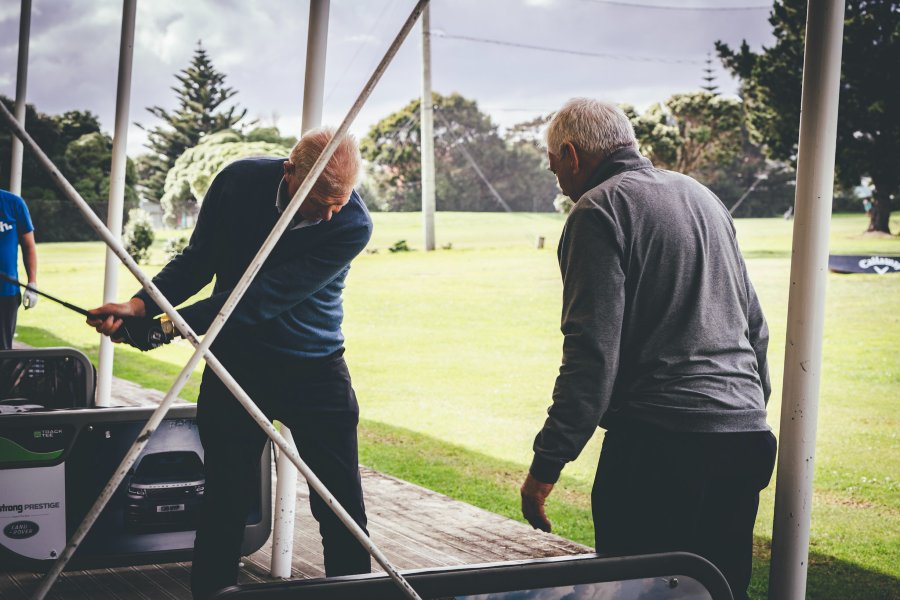 Free club fitting
Our team of professional Golf Warehouse club fitter's will take you through an enjoyable and informative fitting process to analyse the dynamics of your swing and ball flight. Using Foresight Sports Launch monitors and club fitting software, we're proud to offer you the most advanced launch monitor technology currently available, and it's the same system used by the pros on Tour!

From this experience, you will receive an unprecedented level of detail about your game along with custom equipment recommendations based on your swing characteristics and stature, allowing us to then find the perfect clubs for your swing and budget.

Play Better Golf with the best fitting experience and maximise the potential of your game.
Touch Free Automated Driving Range
Our driving ranges feature a completely touch-free experience. Why? Because carrying a bucket full of golf balls to your bay, and teeing them up one at a time is so last century.
To make life simple, you just turn up to your bay, press the start button, choose your tee height, and "Bomb" away. Then after you hit each shot, another ball will automagically appear on the tee ready for you to unleash your "Inner Tiger".
TopTracer Interactive Game Modes
Featuring the same ball-tracking technology that traces the shots of the games best players on TV. Our Driving ranges are equipped with Toptracer Range technology offering a fun, engaging, tech-driven experience that appeals to seasoned players, range rivals, friends, family members, and even first-time golfers.
Guests of all ages and handicaps will enjoy playing iconic courses or taking aim at virtual targets and seeing if they can climb our local leaderboards.
Do you want to go one step further? Then download the Toptracer Range App to link your personal profiles and access your entire history of shot data, including specific club performance details, as well as how you rank against other players on leaderboards.
9 Hole Golf Course
Are you struggling to find time for a full 18 holes? We have got the perfect solution to help you practice your game with our quick to play 9 hole golf courses.
We offer something for the whole family with casual play and membership options are available.
Download Scorecard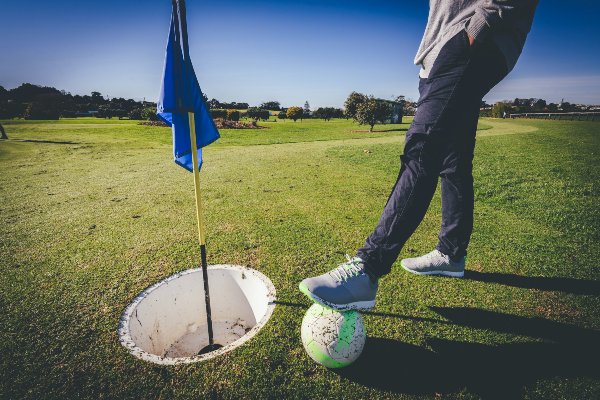 FootGolf 9 Hole Course
As the name suggests, Footgolf is made by combining football and golf, but Footgolf is neither totally like football or golf. The game involves kicking a football into a hole in as few kicks as possible.

Footgolf uses the same model as golf, with a fairway, tees, hazards, bunkers and 9 holes of play. Every hole is the same, like the golf scorecard, where you can play in a pair, as threesome or a group of four.  The main differences between Footgolf and golf is the size of the holes (20 3/4 inch cup), usually shorter fairways and the lack of golf equipment. You only need a regular size 5 football which you can hire, or you can take your own if you have one. 

Download Scorecard
Round the World Mini Golf
18 hole full size course based on 18 famous golf holes from around the world, a real challenge for even the best putters out there!
Download Scorecard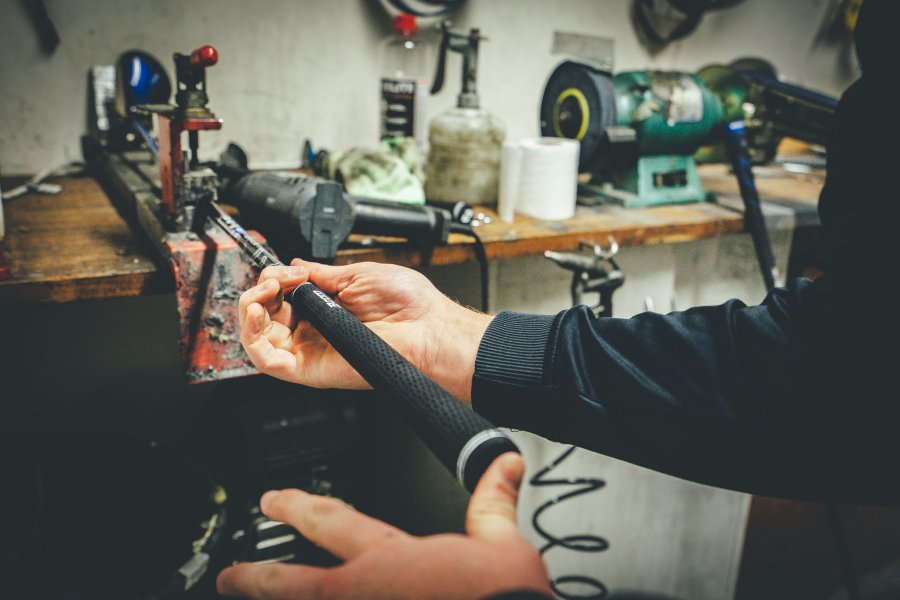 CLUB REPAIR WORKSHOP
Are your grips starting to look tired and feel slippery? Bring your clubs into store and our team will be able to add a whole new feel to your game.

With a range of grips in stock, we have something to suit every hand.
Golf Warehouse & Driving Range Lower Hutt